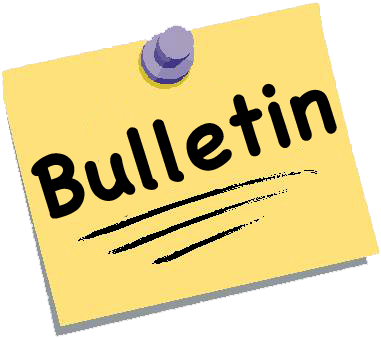 Bulletin - Monday January 23rd
Vicki Reece
Monday, January 23, 2017
Monday, January 23
9th Basketball vs. Stilwell here at 5:00
Two of the Westville Robotics teams have been invited to the Oklahoma VEX VRC State Championship in Lawton. Congratulations to Kyle Bynum, Jodie Lee, Summer Merrill, Jake Meadows, Bryce Rhodes, Tyara Thomas and Daylon Thomas. Kyle, Jodie and Summer also won the Judges' Award at our Westville Competition. We are very proud of all of our Robotics teams this year.
Tuesday, January 24 -
Varsity Basketball at Sallisaw Central 6:30 (JV Boys at 5:00)
January 24th: ASVAB Score Results & Interpretation will be on Tuesday in Lab 209 during 3rd hour from 10:15-11:10. Juniors: Garret Beach, Jasmine Bolinger, Kylie Goodall, Morgan Grooms, Tyler Hammer, Ezekial Haddix, Timber Harrington, Josh Haskins, , Corbin Latta, Hayden Kaiser, River Kaiser, Lance Robison, Chase Smith, Ryan Stephens, Landon Unger, Keyona Watson, Codi Yates. Seniors: Bobby Blossom, Jesse Brantley, Bradley Curtis, Phillip Hewitt, Billy Joe Latta, William Metzger, Daniel Neale, Lucas Pollock, Johnson Waring
Juniors & Seniors interested in attending OSSM at ICTC in Stilwell for AP Physics and Calculus can pick up an application in Mrs. Miggletto's office by March 9th. Deadline to complete and turn in is March 30th. Interviews will be the 3rd week of April.
D-FY meeting Tuesday at 12:15 in the auditorium. Please allow students to go to lunch 5 minutes early.
Wednesday, January 25 -
Asvab Interpretation in room 209 at 10:00
8th Basketball in Adair County Tournament at Stilwell (Wed.-Sat.)
Thursday, January 268th/9th Basketball vs. Kansas here at 4:30
Friday, January 27 - ETS meetings in Alt. Ed. Building
Varsity Basketball vs. Vian here at 6:30 (JV Girls 5:00)
Winter Sport Pictures will be January 27th in the gym.
Jan 27th
Work Experience Students must turn in January Work Verifications
Winter sport pictures will be Friday, January 27th in the highschool gym. Please excuse yearbook staff members Haleigh Bradford (1st-4th hours) and Sarah Schultz (5th-7th hours) to help.

The following is the schedule:

1st hour 9th and Varsity Girls Basketball 3rd hour Varsity Basketball Cheer

4th hour 7th and 8th grade Boys Basketball 5th hour 7th and 8th grade Girls Basketball

6th hour Junior High Basketball Cheer 7th hour 9th and Varsity Boys Basketball

Coaches/Sponsors will be handing out order forms to students Tuesday. They need to bring order forms with them Friday if they wish to purchase pictures. Please help remind them.
Saturday, January 28
FCCLA Coronation in the auditorium at 6:00 (reception in cafeteria after)
Alumni Basketball game, January 28th 11:00 a.m. – 1:00 p.m.
Sunday, January 29
The public performance of the Junior play will be on Sunday, January 29 at 2:00 Pm. Admission will be $3 for adults and $1 for students.
****************************
Senior Night for Basketball
Basketball will have their Senior Night February 7th vs Hulbert. It will begin at 6pm. Girls game tips off at 6:30pm.
Monday, January 30th, the Junior Speech and Drama class will present their play, "The Day Skinny Jeans Saved the Universe." Elementary performance will be at 9:00 AM, and JH/HS will be at 12:30. Admission will be $1.
Seniors
SENIORS—The Virgil Wilkie Scholarship application is now available see Jodi Simmons for an application. Deadline is March 31st.
Seniors: Have you been admitted to a college? Are you on the Wall of Fame??? Bring in a college admission letter and go see Mrs. Miggletto or Ms. Jodi!
Senior Trip money due February 1 if you can't meet that you will need to see either Mrs. Hanvey, Mrs. Grooms, Mrs. Green or Mr. Clark about when it can be paid. If you weren't at the meeting today 1/17/16 you need to see Mrs. Green or Mrs. Grooms and get your name down so we can have a good count to book the trip with.
Juniors
Juniors: Ozark Electric Youth Tour applications are available to be picked up in Mrs. Miggletto's office. Due date is Feb. 1st & must be submitted by mail or email.
Note from Mrs. Miggletto
Technology Addiction $1,000 Scholarship: Create a 140-character message about technology addiction. (Top 10 finalists will be selected to write a 500-1000 word essay.) 9-12 graders may apply. Deadline is January 30, 2017. Go to http://www.digitalresponsibility.org/technology-ad... to apply.
Talent Show
Talent Show forms can be picked up in the high school or junior high office, Mr. Yeager, and Mr. Braden. Talent Show will be February 9th. Forms will need to be turned in by February 3rd at 3:30.
Teachers and Staff
If you are interested in working gate, tickets, or clock for soccer, or gate for baseball please email Linda Blackwood or call ext. 311