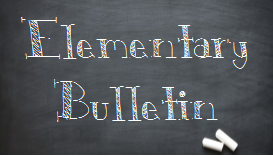 Elementary Bulletin
Blair Rector
Monday, January 23, 2017
January 30th - February 28th
Monday:
January 30th the Junior Speech and Drama class will present their play, "The Day Skinny Jeans Saved the Universe." Elementary performance will be at 9:00 AM, and JH/HS will be at 12:30. Admission is $1 and is due the day of the performance.
3rd & 4th Basketball @ Maryetta will be January 30th at 4:00 p.m.
Tuesday:
The library will be closed ALL DAY on Tuesday, Jan 31st for spring pictures. Please refer to the picture schedule to see when your class is scheduled.
Cherokee Nation Dental Sealant forms are due January 31st.
Elementary Cheer Clinic forms are due in the office January 31st.
Wednesday:
4th Basketball @ Kansas will be February 1st at 10:00 a.m.
4-H Fabrics and Fashions is February 1st at Rocky Mountain.
Westville Little League sign-up forms are due in the elementary office on February 1st.
Thursday:
Friday:
Talent Show forms and music are due in the elementary office Friday, Feb. 3rd.
Saturday:
Elementary Cheer Clinic will be Saturday, 2/4/17 from 9:00 a.m.—Noon in the H.S. gym.Forms are available in the Elementary office.Forms and $20 fee due by Tuesday, 1/31/17.Please see Staci Heustis in JH room 422 or call 918-723-3432 if you have questions.
From the Principals' Desk:
The Westville Annual Elementary Talent show will be Thursday, February 9th at 9:00 a.m. in the auditorium.Finals will be that evening at 6:00 p.m.Entry forms are available in the Elementary Office.
Testing time is right around the corner for 3rd—6th grade and we will be looking for volunteers to help us out. Please let the elementary office know if you have a parent or guardian that would be interested in volunteering to monitor during testing week.