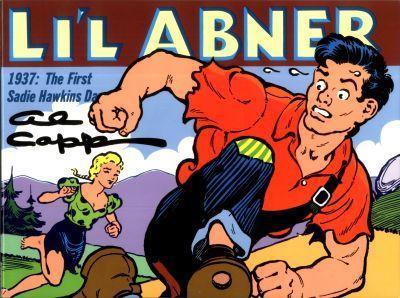 Sadie WHO?
Vicki Reece
Monday, February 25, 2019
Many schools have a Sadie Hawkins Dance. The custom for this dance is that the girls are supposed to ask the guys to the dance, not the other way around. That's the fun of Sadie Hawkins–taking a traditional role assigned to guys and mixing it up.
So how did the Sadie Hawkins Dance really come to be?
Believe it or not, Sadie Hawkins actually originates from a comic strip from the 1930's. Al Capp, the cartoonist of the comic strip Lil' Abner, created a fictional story about a girl named Sadie Hawkins. Sadie was described as an unappealing and plain girl who had no suitors. Her father wanted to get his daughter married and out of the house. He organized a foot race, somewhat similar to a hunt, including all the single men in the area. The men were given a head start, and Sadie had to chase after them. If Sadie were to catch one of the guys, she got to marry him. This story was loved by millions of readers. Girls enjoyed the idea of pursuing men for a change. Sadie Hawkins was so popular, a tradition was created upon her story.

Even though the Sadie Dance seems like a new activity here at WHS, it actually was celebrated many years ago. One alumni, Sandy Gregory, said, "Going waaay back here. Sadie Hawkins Day used to be celebrated in November. The girls "asked" the boys to be their date. The attire was sort of Dogpatch hillbilly style. The girls chased the boys until they caught who they wanted. We weren't allowed to have dances at school so we didn't do much other than dress funny and chase the boys."
In our little "Footloose" town, dancing wasn't permitted so some of the celebrations just included the dress up day and the chase on the front lawn. Some years included games and activities such as kangaroo court and fun relay races and more games in the gym. Another former student, Alice Rankin, told us, "They had a party in the gym at night and they did a game of the Dating Game. I remember Cindy Wolf and Randy Blackwood played. I thought they were so cool. He had really long hair and she was dressed in a mini skirt and was just too cool. This was 1969 or 1970."
While we don't hillbilly it up any more, we still get to enjoy the tradition of Sadie Hawkins with a dance. Make sure you find your "fancy duds" and buy your ticket. Most importantly, ladies, don't be bashful. Catch that guy and ask him to celebrate Sadie Hawkins with you! But don't get downhearted if you don't get asked or you really don't want to ask anyone. Individuals are still welcome at the door!
Here are the important details from Student Council -
We are excited to be having our 3rd annual Sadie Hawkins dance on March 8 from 8:00-11:00. It's ladies choice and again this year it will be a semi-formal event. Guys must wear a collared shirt and shorts will not be allowed. Ladies are encouraged to wear dresses or slacks. If you would like to prepay, you can do so in Mr. Carte's room 401 or Mrs. Guthrie's room 405 from February 19- March 1 for a cost of $7 per couple or you can pay at the door for $5 per person. This event is sure to be a blast so ladies ask a date, prepay, and save.