ICTC application deadline has been extended until Feb. 16. SR CPR class scheduled for 2/11 has been cancelled. 9-12 grade students should check school email every day.

Westvile Schools will not let out early today but parents always have the option to check out their students. The roads are clear and we will run buses at our regular time today. Alt school will be canceled today. We will however move to Distance Learning for the rest of the week. The weather is unpredictable for the next few days so we want to be safe. Varsity basketball games and Senior night have been canceled for tonight vs Oktaha.
Applications for ICTC programs are due on Thursday, Feb. 11th. Return to Mrs. Miggletto's office. Mr. Bunch will be in Mrs. Miggletto's office on Feb. 11 from 9:20-11 to help students fill out applications.

We are honored to have a National Board Certified Teacher, Tabitha Braden, as a Yellowjacket. Congratulations on this achievement!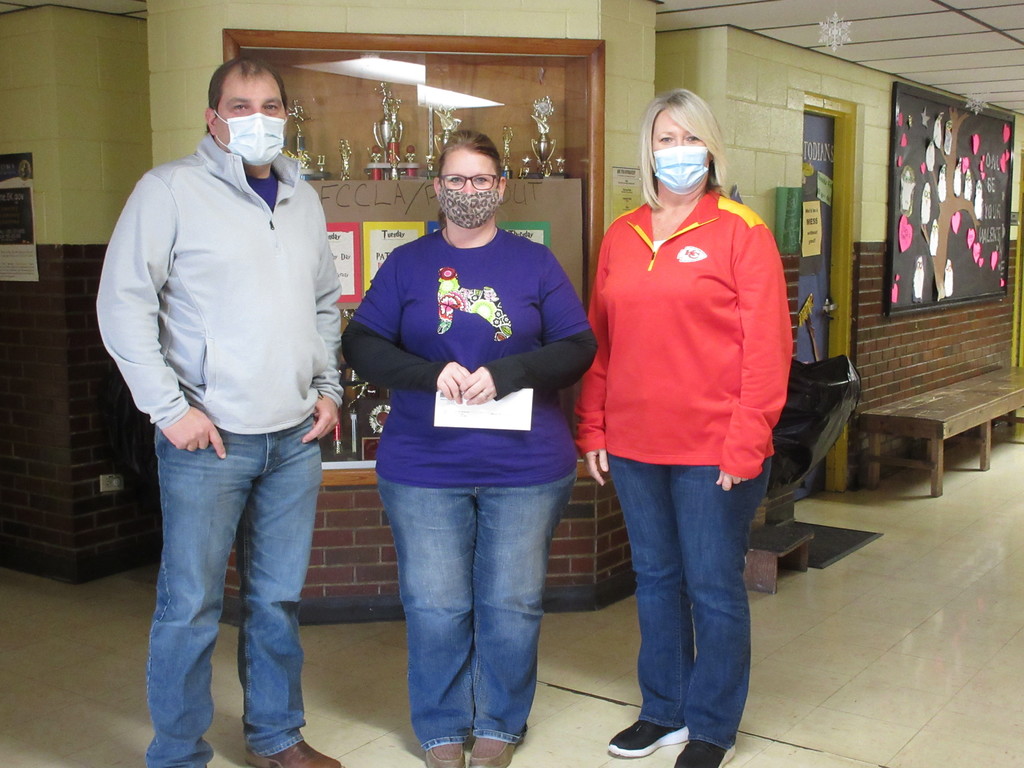 PSA- The Westville Little League Baseball and Softball signups, as well as, Spring Soccer signups are being held at Carson Community Bank in Westville.
The Varsity Basketball game with Keys, Monday, February 8th has been cancelled.

Senior Night for Varsity basketball has been postponed. We will have a new date announcement soon.

Last night our school board approved a few changes on the school calendar. You can find these changes on the school website, at the top of the page-just click "District Calendar."

Good news! Mr. Whiteley has Adair County Premium Auction checks for students enrolled in Westville FFA and 4H. See him at the Ag building.

Clarification 6th grade is still under quarantine until the specified date given by the school nurse.

Basketball senior night has been changed to January 28th at 5:30

Westville schools will be in person learning next week. Monday -Thursday with PD for staff on Friday Jan 22. Students not enrolled in full time virtual are expected to attend class in person or will be counted absent.

At this time all 6th grade students will be quarantined. The teachers will continue to push out work daily and students need to sign in, and complete the work daily like on distant learning days.  Students may return to school and are free from quarantine on January 25th. If you have any questions or concerns please contact the school Nurse.

PSA- There will be a coat give away at Impact Church in the gym on Friday, January 15th from 6 to 8 pm. Anyone who wants or needs a coat can go get one for themselves or anyone they know. No eligibility guidelines. Sizes range from infant/toddler to adult 5X

Quick reminder: If your junior high or high school child is attending virtually please return a signed copy of the virtual policy to the office as soon as possible. We must have a copy of this policy on file if they wish to continue virtually. Thank you very much.

The junior high games have been cancelled tonight, January 11th, as a precaution to a possible covid case. Sorry for the inconvenience we will plan to reschedule the games for a later date.

Westville Public Schools has a calendar change for PD day on Monday, January 18th. PD is being moved to Friday, January 22nd. School will be in session on Monday, January 18th. This will allow for a more consistent schedule for students and parents. Fridays are still Distance Learning Days at this time.

Westville Schools plans on being In-person learning on Monday, January 11th. We took this week to make sure we had enough staff after the break to have In-person learning. All grades will be in session buses will be running on Monday! Thank you for your patience and understanding
Students, Distance Learning classes began on Monday, January 4th. If you have not accepted your google classroom invitations or communicated with your teachers, please do so as soon as possible.
The seventh and eighth grade boys basketball teams will be practicing during their regular class time, which is between 11:00 and 12:15.